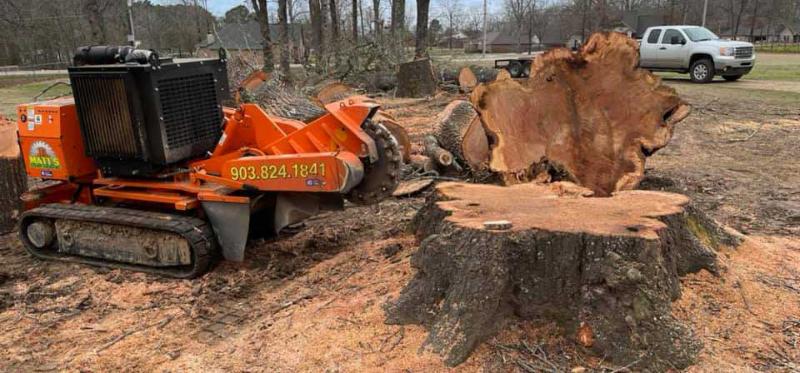 About Matt's Stump Grinding
Matt's Stump Grinding serves the Ark-La-Tex region and specializes in residential and commercial stump grinding. Tired of looking at that stump in your front yard? We've got you covered! Or maybe you are trying to clear a new piece of property for your new camping trailer? We can handle it! From one to hundreds, from tiny to humongous, no job is too big or too small! Using our dedicated equipment we can access stumps from even a 36 inch gate. We won't disturb your surrounding landscape, but we'll grind those bad boys to a minimum of 6 inches below grade. Estimates are always free. We are insured with a 1 million dollar insurance policy. For your convenience we accept cash, check, any major credit card, and PayPal.
Learn More
New Stump Grinder!
Our newer, state of the art equipment features a high horsepower diesel engine to make short work of very large stumps or large tracts of stumps. It has a wireless remote control to allow the operator to stay out of harms way and to be able to see exactly what they are grinding. It also features a hydraulic controller push blade to allow the grindings to be pushed into a pile for the customer to dispose of.
We can still get through a 36″ gate without any difficulty. If the area is too small for our large machine, we have a small machine for the delicate jobs that are in very tight spaces.